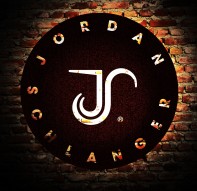 Jordan Schlanger was born in New York into a family of artists, designers, musicians, naturalists, and inventors. Schlanger, even through his early years, was recognized as a prodigious creative talent. His devotion to the interrelated fields of music, sculpture, and design was manifested at every level of education, forming a unique background for the fine jewelry collections he produced from his New York City studio. His furniture and sculpture interest started in his time enrolled in New York's Cooper Union School of Art, where he obtained a degree in sculpture. While producing sculpture installations at Cooper Union, Schlanger also developed a collection of furniture, a collection of porcelain dinnerware, and an ambitious collection of wearable works of art, the latter forming his first representation at the premier gallery for jewelry, Artwear, in 1990. 
Schlanger's jewelry work inspired a comprehensive response from the fashion press and relationships with the most prestigious retailers worldwide. His work appeared regularly in magazines such as Vogue and In Style, and he has been photographed and interviewed for Vogue magazine and Women's Wear Daily, and has appeared live on CNN. His jewelry has been collected by celebrities such as Elizabeth Taylor, Janet Jackson, Madonna, Tina Turner, Courtney Love, Joan Collins, Uma Thurman, Halle Berry, Susan Lucci, Jane Pauley, Katie Couric, Judy Bloom, Carol Burnett, Stephen Tyler, Mia Farrow, and Mike Myers, among others.  Schlanger's fine jewelry collections focus on the classic, and, powerfully inspired by nature, he has drawn from his years of sculpture and design to create exquisitely crafted fine jewelry that is meticulously engineered.
"I've been itching to get back to working in larger forms," Schlanger notes, "and with the space and facilities here in Housatonic, I'll be able to get back to that work." Of particular interest to Schlanger is the mix of functional and industrial heritage design, with organic forms and reclaimed natural and man-made materials. "To create and present my work in one of the Housatonic mill structures adjacent to the beautiful river and lovely Berkshire Hills is just about perfect," says Schlanger.